Boho Chic Hairstyles: Bohemian-Inspired Hair Tutorial ===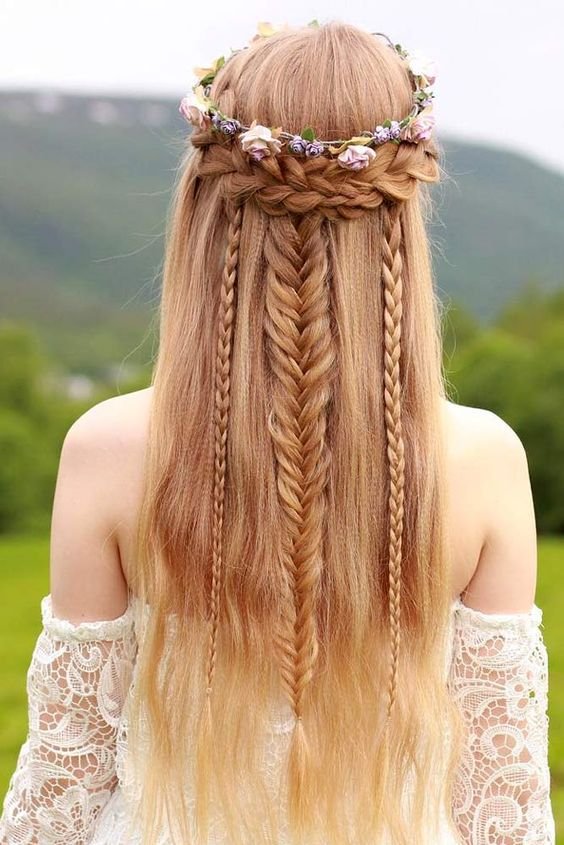 Are you looking to add a touch of free-spirited elegance to your hairstyle? Look no further than boho chic hairstyles! These effortlessly beautiful looks draw inspiration from the bohemian lifestyle, embracing natural textures, loose waves, and whimsical braids. Whether you're heading to a music festival or simply want to add a bohemian twist to your everyday style, this hair tutorial will help you master the art of boho chic hair. So let's dive in and get inspired by some stunning bohemian-inspired hairstyles!
Master the Boho Chic Look: Hair Tutorial
To achieve the perfect boho chic hairstyle, it's important to start with the right foundation. Begin with clean, dry hair and create loose waves using a curling wand or with braids overnight for a natural bohemian texture. Once your hair has the desired texture, you can start experimenting with different boho chic hairstyles.
One popular option is the boho crown braid. Start by parting your hair down the middle and create two braids on each side, starting at the front. Once you reach the back, secure the braids with bobby pins and gently pull them apart to loosen the look. This ethereal hairstyle is perfect for a bohemian wedding or a romantic date night.
Another boho chic hairstyle to try is the messy bun with a twist. Gather your hair into a high ponytail, leaving a few face-framing strands loose. Twist the ponytail into a loose bun and secure it with bobby pins. Pull out a few strands to frame your face and you're ready to rock a laid-back boho vibe at any casual event.
Get Inspired by Bohemian-Inspired Hairstyles
Boho chic hairstyles are all about embracing your inner free spirit and expressing your individuality. Take inspiration from bohemian icons like Stevie Nicks and Florence Welch, who effortlessly embody the boho chic aesthetic. Their hairstyles often feature effortless waves, flower crowns, and delicate braids that exude a carefree and whimsical vibe.
To gather more inspiration, browse through magazines, social media platforms, and boho fashion blogs. Keep an eye out for unique hairstyles with intricate braids, mixed textures, and accessories like headbands or feather clips. Remember, the beauty of boho chic hairstyles lies in their versatility, so don't be afraid to try new looks and make them your own.
Easy Steps to Achieve Boho Chic Hair Vibes
Now that you're inspired, let's break down the steps to achieving those boho chic hair vibes. Start by prepping your hair with a texturizing spray to add volume and grip. Then, create loose waves using a curling wand or by braiding your hair overnight. Once you have the desired texture, it's time to experiment with different boho chic hairstyles.
For a playful and carefree look, try a half-up boho braid. Take two small sections of hair from each side of your head, twist them, and secure them at the back with a boho-inspired hair clip or a floral accessory. This hairstyle is perfect for a casual day out or a summer music festival.
If you prefer a more boho glam look, go for a twisted crown updo. Start by sectioning your hair into two parts, front and back. Twist the back section into a loose bun, leaving out a few face-framing strands. Then, take small sections from the front and twist them towards the back, securing them with bobby pins. This elegant hairstyle is ideal for a boho chic garden party or a fancy evening event.
1 Romantic Florettes This intricate style starts off with a waterfall braid Next bohemian florettes braids that are pulled loose and swirled into a circle are added These are made from the sections you take from under the waterfall braid The latter incorporates strands from the hairline for a flowy elegant look Source 2 Photos updated on April 4 2023 Jump to Photo Gallery Cindy Marcus Hairstylist EditorinChief Bohemian means unconventional with a spiritual or artistic touch and hairstyles in this category will display braids twist freeflowing tresses and so much more13 Bohemian Hairstyles That Give You a Carefree Look Inject a freespirited vibe into your everyday look with these pretty bohemian hairstyles All Things Hair Team January 10 2023 Charming Bohemian Hairstyles to Try 1 Wavy
Hair With Boho Band Dove Dove Botanical Silicone Free Shampoo for Damaged Hair Restore Buy Now DoveIf you are into bohemian style the braided halo will become a perfect choice The cute braid acts like a headband across the forehead You can also tie a scarf instead Here is an easy way to create beachy wavy hairstyles for lazy girls Divide your hair into two equal parts and twist them individually10 Simple Bohemian Hairstyle Ideas The hairstyle directly changes the face of a woman and the vibes she gives off Gain positive energy and in tune with nature by adopting the bohemian style According to Pinterest39s trend report and our Instagram bohochic buns are trending very high right now Simple and trendy take your inspiration with 4 Min Read Get 10 Off Our Extensions Bohemian or Boho fashion
style became popular in the early 2000s but its still popular today It draws its inspiration from different bohemian and hippie influences and its famous for being chic relaxed and simple It was made popular mostly by Sienna Miller Kate Moss MaryKate Olsen and others50 PHOTOS 19 PRO TIPS Author by Yevheniia Morozova Updated Aug 01 2023 Photo by Shutterstock Wedding trends are dynamic but the bohemian theme has stayed through the times Representing the freespirited natureinspired and wanderlust brides the boho theme is deep and richBring on the fresh bohemian style The sky is the limit for this kind of style We have bohemian hairstyles for every style and a vast amount of different buns and braids Be creative with your hairExperiment and create your own styles Check out these 63 Bohemian
chic hairstyles 1Y Braids
With these easy steps and a little bit of creativity, you can effortlessly achieve the boho chic look of your dreams. Whether you opt for loose waves, intricate braids, or whimsical updos, bohemian-inspired hairstyles are all about embracing your natural beauty and expressing your unique style. So go ahead, let your inner free spirit shine through your hair, and rock those boho chic vibes with confidence!