Ponytails are a timeless and versatile hairstyle that can be effortlessly chic or casually elegant. Whether you're heading to the office, hitting the gym, or attending a glamorous event, there's a perfect ponytail style to suit every occasion. In this article, we will guide you through the art of creating perfect ponytails by exploring various techniques, styling tips, and trendy variations that will elevate your hairstyle game to new heights. Get ready to unleash your creativity and take your ponytail game to the next level!
Mastering the Classic Ponytail: Essential Techniques and Styling Tricks
The classic ponytail is a go-to hairstyle that never goes out of fashion. To achieve a flawless look, start by brushing your hair to eliminate any tangles or knots. Then, gather your hair at the desired height on your head and secure it with a hair elastic. For a polished finish, take a small section of hair and wrap it around the elastic, securing it with a bobby pin. To add volume and prevent any sagging, gently tug at the hair on the crown of your head. Remember to use a hairspray or a texturizing spray to keep your ponytail in place all day long.
If you want to add a touch of elegance to your classic ponytail, opt for a sleek and smooth look. Use a flat iron to straighten your hair before gathering it into a ponytail. Apply a shine-enhancing serum to give your locks a glossy appearance. Another technique to elevate your classic ponytail is by adding texture. Before tying your hair, use a curling iron to create loose waves or soft curls. This will give your ponytail a romantic and whimsical vibe.
Elevating Your Ponytail Game: Chic Variations and Trendy Upgrades
To elevate your ponytail game, experiment with various chic variations and trendy upgrades. One trendy variation is the high ponytail. This style not only elongates your features but also provides an instant facelift. To achieve this look, gather your hair at the crown of your head and secure it with an elastic. For extra volume, tease the hair at the crown before creating the ponytail. Another chic variation is the low ponytail. This style exudes elegance and sophistication. Gather your hair at the nape of your neck and secure it with an elastic. For a polished touch, wrap a strand of hair around the elastic and secure it with a bobby pin.
Trendy upgrades to your ponytail can be achieved through the use of accessories. Add a pop of color and playfulness by incorporating a colorful scarf or ribbon into your ponytail. Wrap it around the base of your ponytail or tie it into a bow for a charming touch. Hair cuffs and barrettes are also trendy options to elevate your ponytail style. Simply place them around the elastic or clip them onto the base of your ponytail for an instant upgrade.
Unleash Your Creativity: Unique Ponytail Styles for Any Occasion
When it comes to ponytails, the possibilities are endless. Unleash your creativity and try out unique ponytail styles for any occasion. For a romantic and bohemian look, opt for a braided ponytail. Start by creating a loose braid near the front of your head, and then gather it together with the rest of your hair into a ponytail. This style is perfect for weddings, festivals, or casual outings. Another unique style is the twisted ponytail. Divide your hair into two sections, twist them around each other, and secure with an elastic. This style adds a modern twist to the classic ponytail.
For a more glamorous and red carpet-worthy look, go for a sleek and polished ponytail with a side part. Begin by creating a deep side part and applying a styling cream to tame any flyaways. Gather your hair at the nape of your neck and secure it with an elastic. Use a flat iron to straighten your hair for a sleek finish. This sophisticated style is ideal for formal events or a night out.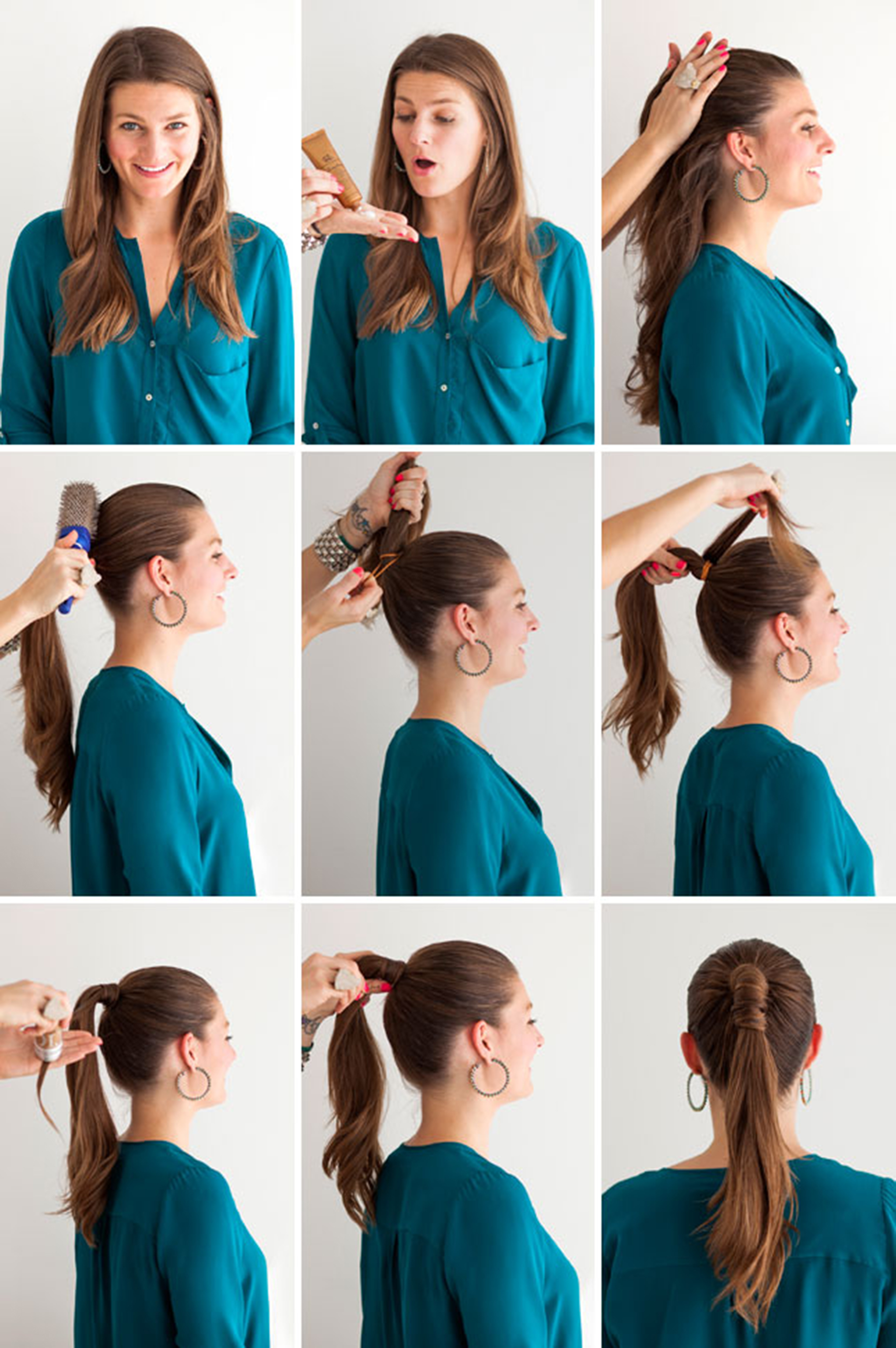 The first step to creating the perfect ponytail is placement Where you decide to place your ponytail will determine how you should go about creating your updo Learning how to do a high ponytail thats level with your temples or above can give your hair more bounce Low ponytails have less movement but look sleek and modernHair How to Style a Perfect Ponytail No Matter Your Hair Type By Ariel Baker Published on 2152022 at 535 PM Getty Jamie Grill Ponytails are simple hairstyles that transcend formality1 Mist amp BlowDry The Roots Chances are your client wears her hair down on the reg so itll require extra combing to manipulate her hair into a pony Ammon recommends misting the hair down and then blowdrying the root area with a flat brush to direct the hair backStep 1 Tie your hair up into a
ponytail with one of our Gravity Defying Hair Ties Step 2 Insert the ponytail extension into the base of your ponytail Step 3 Wrap a strand of the ponytail extension around the base and secure with bobby pins That39s it SHOP CURLY PONYTAIL HAIR EXTENSIONS 3 Fishtail PonytailWith any twisted messy pony like this half down style shows when you hit the sweet spot you look sweet Best of all it takes with next to zero effort to get there While if youre looking for a strictly ponytail affair heres one that hits all the high notes to perfection Image via bohohairstylescom Knotty Yet Nice Instagram hairbysaralePonytail Hairstyles How To Do a Ponytail 1 The Style Happening Off the Runway 2 A Rape A Pregnancy and a Plea to Texas Lawmakers 3 Naomi Osaka39s Skincare Brand Just Launched 4Products like
hairsprays leave in conditioners or even mousse can help your hair keep a hold as well as maintain its style the way you want it So take that humidity 7 Add Accessories Vivienne Mackinder Founder of Hair Designer TV believes the perfect ponytail should only take 1015 minutes and look good from every angle In her latest tutorial The Ponytail Story on HairDesignerTVcom highlights the top 5 factors to take into consideration Face Shape Head Shape Profile MoodFashion and Looking at the Big Picture to create the perfect finished look
Creating perfect ponytails is an art that allows you to express your personal style and elevate your overall look. Whether you prefer a classic, chic, or unique ponytail, the key is to master the essential techniques and experiment with different styling tricks. From the high ponytail to the braided ponytail and sleek variations, there is a ponytail style for every occasion. So, don't be afraid to unleash your creativity and take your ponytail game to new heights. With the right techniques, styling tips, and a touch of inspiration, you'll be rocking flawless ponytails that turn heads wherever you go.