Expert Secrets for Gorgeous Hair: Pro Stylists Share Their Tips ===
Having luscious, beautiful hair is something we all aspire to. However, achieving that perfect mane can often feel like an elusive dream. Fortunately, professional stylists are here to help! With their years of experience and insider knowledge, they have shared their expert secrets for achieving gorgeous hair. From clever hacks to invaluable advice, these tips will unlock the path to stunning locks that will leave everyone envious.
Pro Stylists Reveal: Secret Hacks for Beautiful Hair
Dry shampoo magic: Pro stylists swear by dry shampoo to add volume and freshness to second-day hair. Simply spray it on the roots and massage it in for an instant lift. This lifesaver not only absorbs excess oil but also adds texture, making your hair look effortlessly beautiful.

Make your own natural rinse: To enhance shine and combat dullness, try a simple homemade rinse. Mix equal parts apple cider vinegar and water, then pour it over your hair after shampooing. Rinse it out thoroughly to reveal lustrous, healthy-looking locks.

Silk pillowcase benefits: Switching to a silk pillowcase may sound luxurious, but it can actually work wonders for your hair. Unlike cotton, silk reduces friction, preventing breakage and frizz. Wake up to smoother, healthier hair by making this small change in your bedtime routine.

Teasing for volume: If you desire voluminous hair, teasing is the way to go. Use a teasing brush or comb to lightly backcomb the roots of your hair. This technique adds instant height and fullness, giving your locks a glamorous lift that lasts all day.
Unlock the Path to Stunning Hair with Pro Advice
Heat protectant is non-negotiable: Always remember to spritz heat protectant on your hair before using any hot styling tools. This crucial step creates a barrier between your hair and the heat, preventing damage and maintaining the health and shine of your locks.

Regular trims are a must: Don't underestimate the power of regular trims. Pro stylists recommend getting a trim every 6-8 weeks to eliminate split ends and promote healthy hair growth. This simple step will keep your locks looking fresh, vibrant, and gorgeous.

Embrace your natural texture: Trying to fight against your natural hair texture can be frustrating and damaging. Instead, embrace what you have and work with it. Whether your hair is curly, straight, or somewhere in between, finding the right products and techniques to enhance your natural texture will result in effortless beauty.

Keep it cool for a perfect finish: After styling your hair, blast it with a cool shot of air from your hairdryer. This helps set the style and adds shine. The sudden temperature change also helps seal the hair cuticle, reducing frizz and leaving you with a polished and perfect look.
Inspiring Tips from Expert Stylists for Perfect Locks
The power of a good hairbrush: Investing in a high-quality hairbrush can make all the difference in achieving gorgeous hair. Look for brushes made with natural bristles as they distribute your hair's natural oils, resulting in smoother, shinier locks.

Don't skip the deep conditioning: Treat your hair to a nourishing deep conditioning treatment at least once a week. This will revive dry and damaged hair, leaving it soft, silky, and full of life. Apply the treatment from mid-length to ends, let it sit for 10-15 minutes, then rinse thoroughly for stunning results.

Protect your hair from the sun: Just like your skin, your hair needs protection from the sun's harmful UV rays. Look for hair products that contain SPF or wear a hat to shield your locks. This will prevent color fading, dryness, and brittleness, ensuring your hair remains vibrant and healthy.

Healthy lifestyle, healthy hair: Lastly, remember that the health of your hair is closely tied to your overall well-being. Maintain a balanced diet, exercise regularly, and manage stress levels to promote healthy hair growth and maintain its natural beauty.
Unlock Your Hair's Potential with Expert Secrets===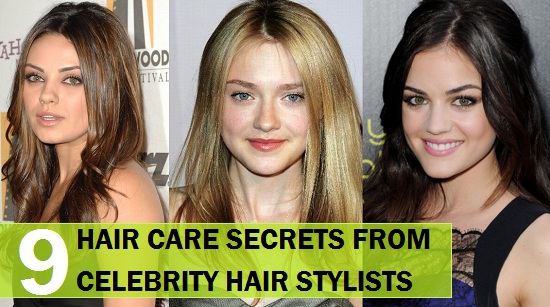 23 Minutes 02 Seconds Notify me Allurecom Expert Advice The 25 Best Hair Tips That Pro Stylists Have Ever Told Us From the hairstylists who do the coolest waves best blowouts and7 Surprising Hair Secrets the Pros Swear By instagood hair day By Deanna Pai Published May 12 2017 If your routine hasn39t been cutting it for you read limp strands or generallyChia or pumpkin seeds tossed on top of your salad add omega3 fatty acids zinc and iron all of which help maintain healthy hair Meanwhile actress and TV host Padma Lakshmi credits her long Isabel Burton Updated Sep 03 2023 These super simple expertapproved hair Tips will change everythinginstantly Zorica NastasicGetty Images Small hair Tips that make a big difference8 Stylist Secrets for Healthy Gorgeous Hair Nothing compares to a
professional blowout but with the right techniques it is possible to achieve and maintain that salon look at home1 Being reactive instead of proactive Dont wait until you see something wrong to start really taking care of your hair A mistake some people make is obsessing with products while 1 Get the right blow dryer The 1 essential for a great blowout is a great blow dryer GH Beauty Lab scientists test blow dryers by evaluating new models across price points in the Lab for factors12 Best Acne Products for Your Clearest Skin Yet Read More 11 Best Tinted Moisturizers for Easy OntheGo Coverage Read More products mentioned The Wet Brush 92 BUY NOW Rene Furterer Lissea Thermal Protecting Smoothing Spray 00 Hello Hair Hydrating Mask 00 As low as 000 BUY ON AMAZON more stories
Beautiful, healthy hair is not out of reach. By incorporating these expert secrets into your hair care routine, you'll unlock the path to stunning locks that turn heads wherever you go. From using the right products to embracing your natural texture and prioritizing hair health, these tips from professional stylists will inspire you to take your hair game to the next level. So, go ahead and put these secrets into practice – gorgeous hair awaits you!