When it comes to special occasions like weddings and proms, every detail matters. From the dress to the makeup, everything needs to be perfect. And one of the most crucial aspects of your overall look is your hairstyle. Whether you're the bride walking down the aisle or a prom queen candidate, your hairstyle can make or break your entire ensemble. In this article, we will explore some elegant and timeless wedding hairstyles as well as some glamorous and trendy prom looks to inspire you on your special day.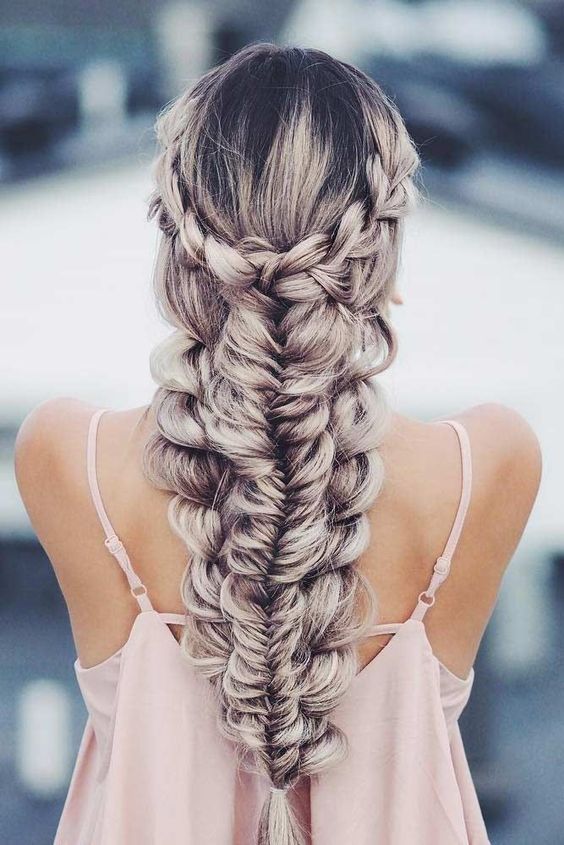 Wedding Hairstyles: Elegant and Timeless Inspiration
Classic Updo: The classic updo is a timeless choice for brides. It exudes elegance and sophistication. Whether you opt for a sleek bun or a twisty chignon, a classic updo will never go out of style. Add some delicate hair accessories, such as jeweled pins or a floral crown, to complete the look.

Romantic Half-Up, Half-Down: For a softer and more romantic look, consider a half-up, half-down hairstyle. This style is perfect for brides who want to show off their luscious locks while still having an elegant and polished appearance. Soft curls with a delicate hairpiece or a veil can add a touch of whimsy to this enchanting look.

Bohemian Braids: If you're a free-spirited bride, bohemian braids are the perfect choice for you. Whether you opt for a loose fishtail braid, a messy side braid, or a combination of braids and twists, this hairstyle will give you a relaxed yet chic vibe. Add some flowers or a beaded headband to enhance the bohemian feel.

Vintage Waves: Vintage-inspired hairstyles are making a comeback in the wedding scene. Think Old Hollywood glamour with soft and romantic waves cascading down. This hairstyle looks stunning on both short and long hair. Complete the look with a vintage-inspired hair accessory, such as a birdcage veil or a crystal hair comb.
Prom Hairstyles: Glamorous and Trendy Looks
Sleek High Ponytail: A sleek high ponytail is a simple yet glamorous hairstyle that is perfect for prom. This sleek and polished look is achieved by pulling the hair up high and securing it with a hair tie. For some extra pizzazz, wrap a section of hair around the hair tie to conceal it and add a touch of elegance.

Messy Bun with Braids: For a trendy and effortless look, try a messy bun with braids. This hairstyle combines the elegance of a bun with the boho-chic vibes of braids. Create a messy bun at the nape of your neck and incorporate braids into the style. Leave a few loose strands around your face for a softer look.

Hollywood Waves: Channel your inner red carpet diva with glamorous Hollywood waves. This hairstyle is all about big, voluminous curls that exude elegance and sophistication. Use a curling iron or hot rollers to create the waves, and finish off with a generous amount of hairspray for long-lasting hold.

Accessorize with Hair Jewelry: No prom hairstyle is complete without some dazzling hair jewelry. Whether it's a sparkly tiara, a delicate headband, or jeweled hairpins, adding hair jewelry can elevate any hairstyle and make you feel like a true prom queen.

1 Braided Crown Wedding Hair Special occasion hairstyles can be fun and feminine without being a ton of work Incorporating a chunky crown braid into the hair is ideal for locks that are in the midst of that awkward growing out stage or for layers that wont cooperate for formal occasions 2Add some pizzazz to your bridal hairstyle with a beaded headband This double band engulfed in crystals is the best way to hold old Hollywoodstyle curls into place which is what this bride did Follow this tutorial and learn how to do this wedding amp prom updo for long hair Subscribe here for more formal hairstyles and updos for special occasionsThOur collection of 61 half updos will surely inspire you to wear your hair this way 1 Curly amp Messy Style This half updo will amp up any look To achieve this

look first curl your hair in soft curls They should look effortless and messy as pictured Next slightly tease your crown to get volumeIn today39s hair tutorial we show an easy elegant and pretty updo for special occasions This romantic hairstyle with twists and braids is glamorous sophisProm Hairstyles Whether youre looking for hairstyling Inspiration prom hair hacks or tutorials on how to master hairstyles fit for a homecoming queen youll find everything you need right here Check out our tutorials and follow our stepbystep guides to learn all our methods for making each prom hairstyle look effortlessSave to 1 2 Buy Hair Combs For Half Up Half Down on awbridalcom from 9 Buy Hair Vines For Half Up Half Down on awbridalcom from 9 One of the most popular hairstyles for the wedding day It

is very gentle and cute emphasizing the natural beauty of the brideSep 20 2015 Explore Bukés Salon Spa39s board quotWedding and Special Occasion Hairstyle Inspirationquot followed by 1083 people on Pinterest See more ideas about hairstyle wedding hairstyles hair styles
Now that you have some elegant and trendy hairstyle ideas for weddings and proms, it's time to choose the one that suits your personal style and makes you feel like the most beautiful version of yourself. Remember, the key is to choose a hairstyle that enhances your natural features and complements your outfit. Whether you opt for a classic updo or a trendy messy bun, your hairstyle will undoubtedly be the crowning glory of your special occasion. So go ahead, experiment, and choose a hairstyle that will make heads turn and make you feel like the star of the night.